Baking at Home with
Chef Dominique Ansel
"Believe it or not – I seldom baked at home until we were all quarantined in.  What started off as a way to introduce my new book, Everyone Can Bake, has turned into a channel to connect with each of you and be a part of your homes.
I have always believed in the happiness, comfort, and community that baking can bring. And I'm so looking forward to sharing that with you and seeing what you bake up. As my refrigerator magnet says: life is what you bake of it."
 — Chef Dominique Ansel
Simple recipes and techniques
Every lesson comes with: 5 to 7 segments that total to about 50 minutes of material, with every step of the baking process, plus your own downloadable recipe.
Once you purchase a lesson, it is immediately and always available to you to watch online. Lessons are created by our team as a new way to connect with our community during these uncertain times.
Thank you for your support and for giving our team an opportunity to continue to create content that we're passionate about for you and yours.
Price per lesson: $12.00
Price for all 5 lessons: $49.95 (a limited offer for $60.00 of value)

Starting with the perfect pie crust, these lessons teach you how to then transform that into a gorgeous apple pie or a decadent pecan pie. Get tried and true tips to kick off the holiday season – because we can all use a little more celebration this year. As a bonus, get learn how to make a simple French-style savory pie and inspiration for a fruit pie design.

Everyone who knows Chef Dominique is aware of his obsession with the croissant. But making it the professional way, with a levain starter from scratch, can be intimidating. In this lesson, you can learn a modify recipe for simple at-home alternative. What family wouldn't enjoy a warm buttery croissant, hot of the oven, for the ultimate breakfast? And learn about pain au chocolat, ham and cheese croissant, and almond croissant as well!

Fast and easy French classics to whip up and wow your dinner guests. Chef Dominique Ansel shares some of his favorite desserts that have that je ne sais quoi. Learn how to perfect a beautiful crème brûlée. Overcome your fear that your chocolate soufflé will collapse. And finish off with go to showstopping crèpe suzette that you flambée in front of your guests.

Don't underestimate the brioche – a buttery eggy dough that is French staple. Its light and fluffy crumb makes it ideal as a base for a variety of treats: from cinnamon rolls to donuts to bread pudding. Once you master this soft bread, we promise it'll be the recipe staple you go back to again and again, from baking simple dinner rolls to dessert center pieces.

By popular request – Chef Dominique's go-to gluten free recipes. Here, the philosophy is to not use any flour substitutes, but instead to use the classic French recipes that have always been flourless. Come away with a great foundation of gluten-free items, from a sinfully chocolate-y cookie to a moist flourless cake or meringues to finish off a pavlova. 

Want to really build a great baking foundation? Get all five classes for yourself or as a gift for your loved ones. 
About Chef Dominique Ansel
James Beard Award- winning Pastry Chef, Dominique Ansel has shaken up the pastry world with innovation and creativity at the heart of his work. Chef Dominique is responsible for creating some of the most fêted pastries in the world, including: the Cronut® (named one of TIME Magazine's "25 Best inventions of 2013"), The Cookie Shot, Frozen S'more, Blossoming Hot Chocolate, and many more.  He is the Chef/Owner of eponymous bakeries in New York City and Hong Kong, and has been named the World's Best Pastry Chef by the World's 50 Best Restaurants awards. He is also the recipient of the Ordre du Mérite Agricole, France's second highest honor.
Throughout his career, Dominique has been honored with several awards and accolades, including Business Insider's "Most Innovative People Under 40," Vanity Fair France's "50 Most Influential French in the World," and Daily Mail deeming him the "most fêted pastry chef in the world." He has also been named Dessert Professional's "Top 10 Pastry Chefs in the United States" and Time Out New York's "Top Ten Pastry Chefs You Need To Know." In 2014, Dominique won the prestigious James Beard Award for "Outstanding Pastry Chef" in the nation and was one of Crain's "40 Under 40."
 Perhaps what has been most widely been reported on is Dominique's creation of the Cronut®, his signature croissant-doughnut hybrid pastry that first launched at his eponymous Bakery in New York in May 2013, soon becoming the world's first-ever viral pastry. Within hours, photos of the Cronut® spread across the social media sphere, and a single blog post about this brand new pastry was linked to over 140,000 times in just the first day. Within days, guests visited from all around the world to line up for blocks around the bakery, rain or shine.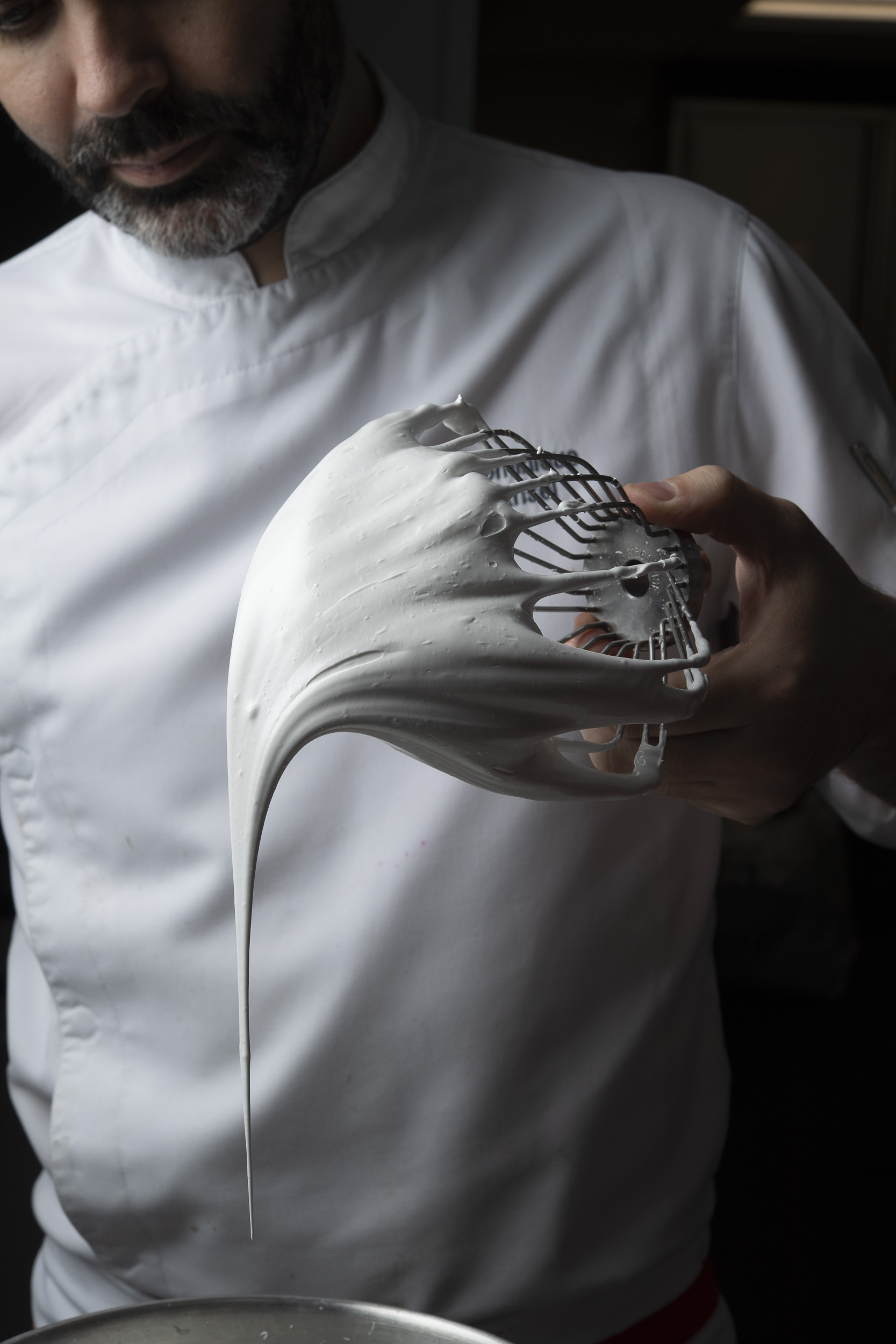 Got questions? We've got answers?
If you don't see your question here, feel free to get in touch.
How long is a lesson?
Each lesson is roughly 5 to 8 short sections. The sections will allow you to jump easily to a particular technique rather than watch an entire video. Each section ranges from 2 to 7 minutes. Your total experience should be approximately 40 to 50 minutes.
What happens when I buy a lesson?
You will have instant access to the lessons upon purchase.
Can I return my lesson?
All sales are final and non-refundable.
What if my baked item didn't turn out, can you help me?
Our customer service representatives will try their best to answer questions, but unfortunately, we cannot guarantee we can solve all the baking issues as there are many variants, including differences in ingredients and equipment, that make it difficult for us to discern what the problem is.
Can I substitute ingredients?
Baking is a chemistry, and so we don't recommend changing the quantity or type of ingredients as it can alter the final result.
What if I have a Gift Certificate?
To redeem: Select any lesson(*) and click on the Join link. On the purchase page, just above the Paypal logo (below the form) – there is a link "Have a Coupon?" – Click this link.
A field will appear – enter the above code into the field (including hyphens).
This will redeem the coupon and will register for the lesson.
(*) NOTE if you have a code for all five classes – Sign up here.
Take Your Baking Skills to New Heights
Explore Dominique Ansel's Cookbooks for more recipes, including the famous Cronut®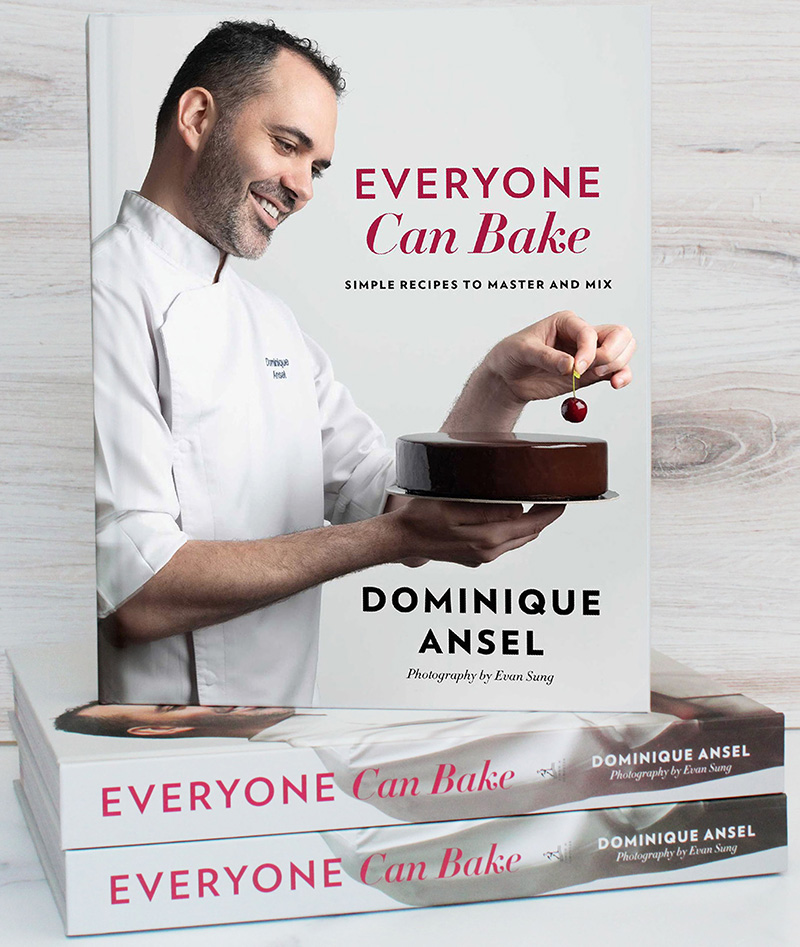 Discover Chef Dominique's brand new 2nd cookbook, Everyone Can Bake, with all the basic building blocks you'll need to create dessert masterpieces. He'll take you through all his go-to recipes for simple bases (like tart shells, chocolate cake, and almond biscuit) + fillings (mousses, jams, ganaches, etc.) + finishings (meringues, buttercreams, caramelized fruits, etc.). Then it's up to you to mix-and-match them to create endless possibilities for delicious desserts!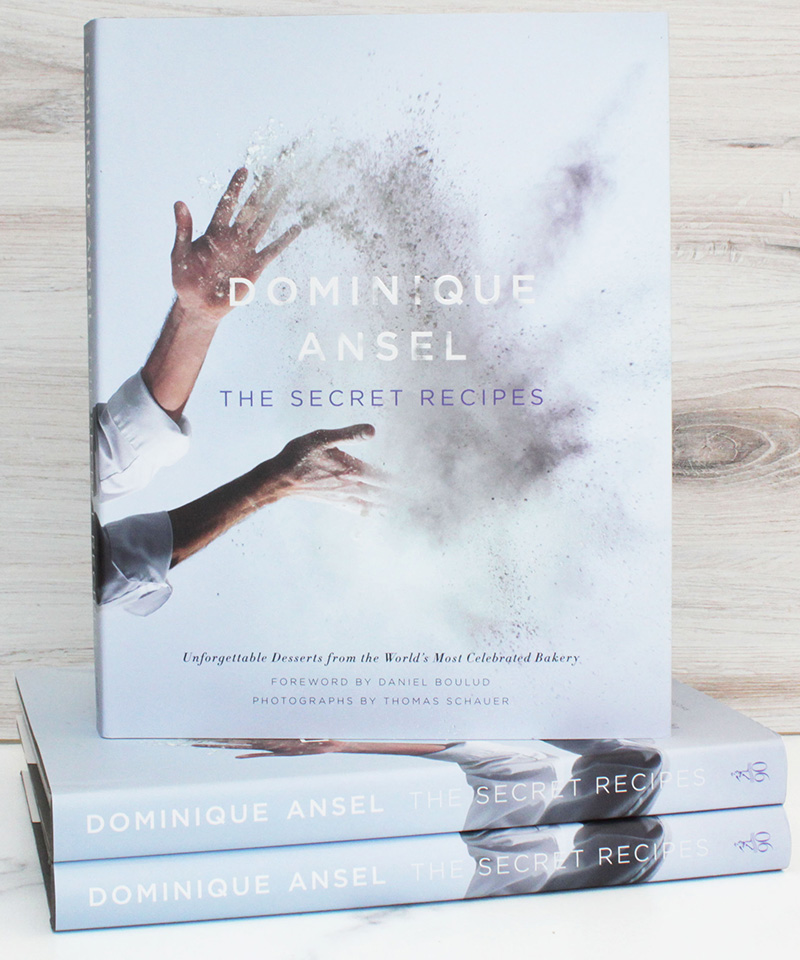 In Chef's first cookbook,
Dominique Ansel: The Secret Recipes
, he shows it is more than just the Cronut® craze. The book traces the inspiration of a chef whose creative process is rooted in a deep philosophy of good food and whose classical training also reflects a generous sprinkling of risk taking and innovation. With a collection of short essays, each with lessons as to how to create and not just imitate, the book also contains some of the most sought after recipes from the Chef's bakery.